---
GSA-700: Gateway to Instant Home Theater
In the GSA-700 surround sound processor/amplifier, Adcom has forged a subtle mix of complexity and simplicity. Typical of all Adcom home audio components, the model has been designed to function as a basic model, but in an open ended way.
Designed with Dolby Pro Logic circuitry and three channels of amplification built in, it can be used to transform an existing home stereo into an instant home theater with the addition of a center channel and a pair of rear-channel speakers. Its two audio and two video inputs also make it ready (after adding a stereo amplifier, five speakers and a subwoofer) for use as a full fledged home entertainment gateway. What's more, with the future addition of the Adcom GDD-1, it can work as a Dolby Digital (AC-3) surround-sound decoder.
In their development of the GSA-700, Adcom engineers used the company's reference-quality separate components as the touchstone against which they measured the 700's audio performance. This no-compromise design approach was the primary goal; it has been achieved through proprietary Adcom technologies that enable psychoacoustically correct realization of both audio and A/V sound stages.
One other important point about the 700 is that it isn't only easy to use-it looks easy to use, with an unintimidating control panel that invites the touch of all household members - not just the "audio/videophile" of the family.
And finally its unassuming, "clean" cosmetics make it fit in with just about any existing stereo system.
TECHNOLOGIES THAT ARE ADCOM'S ALONE
The power amp sections for both the center and rear channels of the GSA-700 are typical of the high-current designs that have made Adcom a leader in the separate-amplifier market over the last two decades. The center-channel amp produces over 100 watts into an eight-ohm load and each of the rear-channel amps produces over 50 watts per channel. As with all Adcom designs, the amps may be used with speaker systems of four ohms or lower.
In the preamplifier area, Adcom's proprietary linear gain devices are several orders of magnitude faster than frequency components of any musical signal, imposing no limitations on the audio information passing through the circuit. Slewing-induced distortion (SID), caused when a device is not quick enough to accurately track musical input, is virtually non-existent.
Adcom's selection of precision one-percent metal-film resistors and high-quality polypropylene film bypass capacitors for use in all critical circuit areas are effective choices: These "passive" components not only directly impact sound quality; but also affect the performance of "active" components such as transistors and linear gain amplifiers.
INSIDE THE CIRCUITRY
A multi-gang precision motor-driven attenuator, another apt design decision by Adcom, provides exceptional channel balance and tracking accuracy over its entire operational range, avoiding the "pumping" problem often associated with less sophisticated, less costly VCA (Voltage Control Amplifier) designs.
The GSA-700's Dolby Pro Logic surround circuitry operates in the analog domain using the same Analog Devices/PMI as the widely acclaimed Adcom GTP-600 surround sound tuner/preamplifier, with input balance for its surround-sound settings handled automatically The GSA-700's operating modes offered are as follows:
Digital input - To accommodate later use of the Adcom GDD-1 Dolby Digital (AC-3) processor.
Dolby Pro Logic - In this mode, a spatially correct sound stage with precise lateral imaging and front-to-back depth is presented.
Concert Hall - This replicates a relatively large indoor performance space. Front-channel frequency response is flat for maximum musical clarity while the diminishing rear-channel delay adds to a sense of spaciousness.
Nightclub - This synthesizes a smaller, more intimate soundfield-ideal for many types of jazz and popular music.
Five-Channel Stereo - This mode makes full use of a home theater system's speaker complement. and is intended primarily to reproduce large-scale musical events.
Two-Channel Stereo - This mode is designed to satisfy the most serious listener who wants to maintain the traditional balance of right and left stereo placement without the addition of rear-channel information
THE HUMAN INTERFACE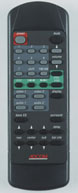 The GSA-700 includes a full-featured remote control to operate the aforementioned surround-sound modes, time delays, volume and inputs. The remote also controls the level set for each channel of the system for precise balance in the surround-sound modes. An on-screen display for controlling the setup and use of the GSA-700 is easily used via the remote control. Additional setup functions, such as center-channel bandwidth and subwoofer filters, are selectable via rear-panel-mounted selectors.
The GSA-700 offers all this, and more. Its combination of the technical sophistication of Adcom's most advanced components with the simplicity of operation needed to interface with a conventional home stereo system, or serve as the control center of a home theater system, are what make it special - and what make it uniquely Adcom.