Heather and Randy's Honeymoon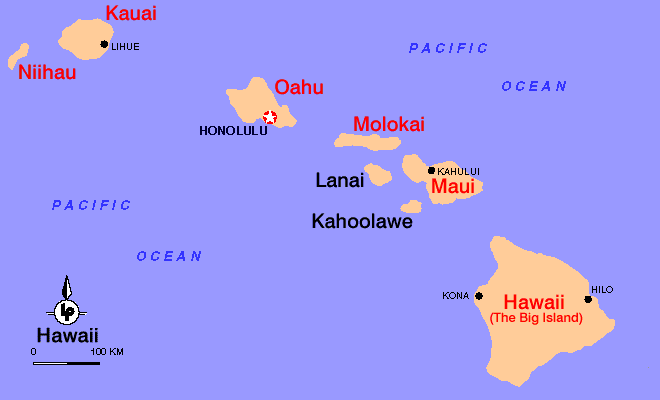 Monday October 9, 2000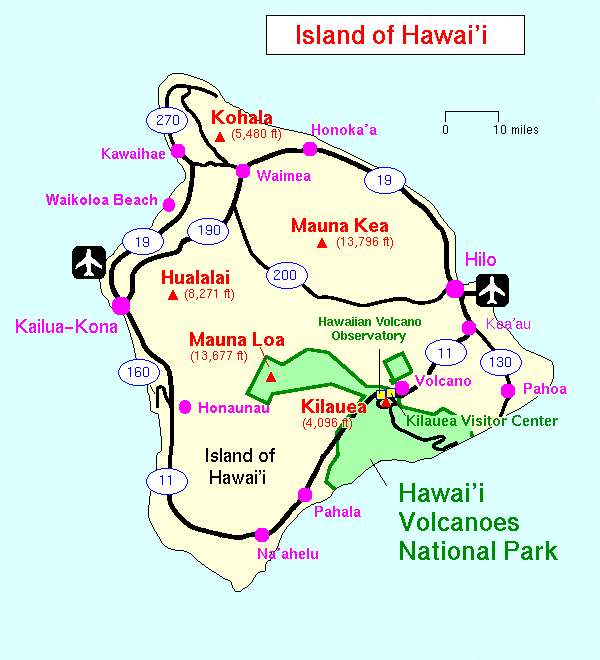 Our flight left Hopkins bright and early at 5:25am. The first leg of the flight was on an MD80 to Atlanta. We arrived there at 7:07am then boarded an L1011 for an 8:05 departure to Honolulu. This flight landed in Dallas to refuel and then was off to sunny Hawaii. Heather and I never left the plane in Dallas, but tried to catch a few z's as we had to get up way too early! The plane finally landed in Honolulu at 1:54pm (Hawaii time, which is 6 hours behind us). We got off the plane and were treated to a lei greeting.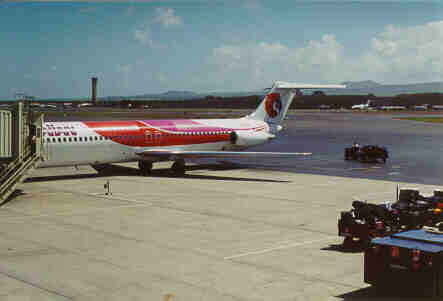 We didn't spend much time in Honolulu as our interisland flight on Hawaiian Airlines departed at 4:05pm. The interisland flight was scheduled to be 40 minutes on a DC 9 (see picture) which kind of surprised me. I expected the distances involved to be much shorter and that we'd probably be taking a much smaller turboprop plane. At any rate, we landed at the Kailua-Kona airport at 4:46pm, got our luggage and went across the street to the rental car place and picked up our cute little white Dodge Neon. I brought along a laptop computer and GPS for the purpose of navigating, so Heather became the pilot-in-command for our trip and I was the navigator.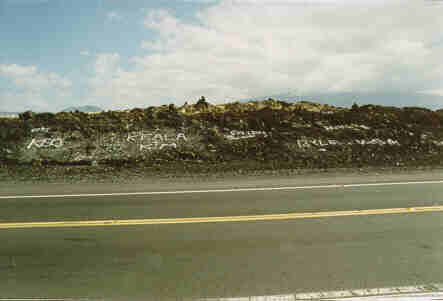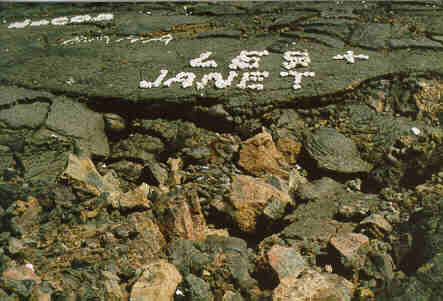 The trip to the hotel was about a 30 minute drive north on route 19. As we drove, we were amazed at the black lava fields. It was really odd to see nothing but black lava rock for miles. Every once in a while we'd see huge patches of white stones arranged so that they spelled peoples' names. I have no idea where the people got the white stones, but it was quite interesting to see the stuff that people had created with the little white stones. Perhaps they had a little too much free time!!

We pulled onto the road that lead to our hotel, Outrigger Waikoloa Beach, and it was like an oasis. Everything was nice and green with palm trees and all sorts of tropical plants. As we pulled up to the hotel, we were amazed that it looked so new and so very elegant. The beauty and elegance were not easily achieved. We learned on our trip to Hawaii that most tourists stay on the sunny side of the island while Hilo, the rainy side, gets most of the flowers...and rain. This rain is moved over to the sunny side of the island and a great amount of work is put into irrigating the tourist areas so the environment seems so lush and vibrant with colorful flowers and blooming shrubbery.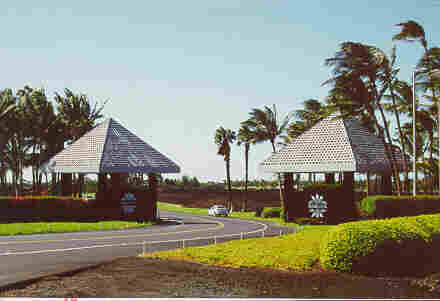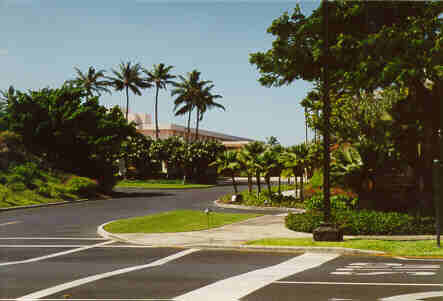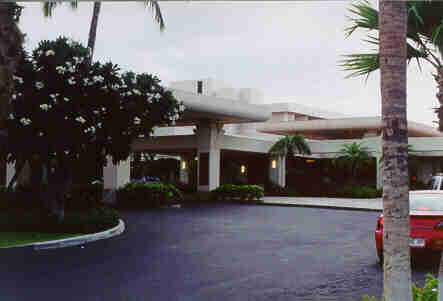 When we got to our first hotel room, they had a bottle of champagne waiting for us along with a couple of glasses. The champagne glasses are now in our collection! The hotel also gave us tickets for a free breakfast for the few days we stayed there, so we took advantage of that. Our complimentary buffet breakfasts were out of this world. The restaurant staff kept the outside/inside dining area incredibly clean, well stocked and beautiful - to boot!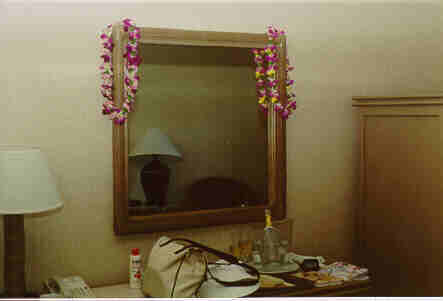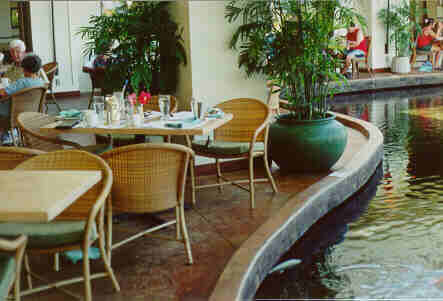 The buffet had Mahi Mahi and locks and bagels every day as well as breakfast staples like eggs, pancakes, fruit, bacon and well the list goes on... Every morning we would see children playing around the restaurant chasing birds (who came for a quick morsel) and being completely mesmerized by the swimming Koi fish in the surrounding ponds.


Tuesday October 10, 2000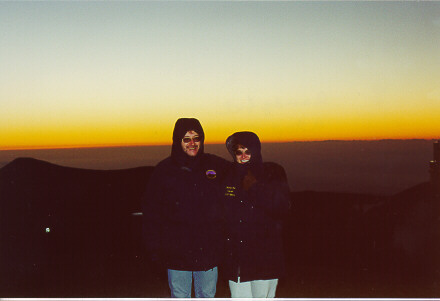 While on the big island, we took a van tour to the top of Mauna Kea... Hawaii's tallest mountain. At the top we stayed until the sun set, which was about 20 minutes or so after we reached the peak. When the sun set, the tour guide took our picture. It was quite cold at the summit. It was about 30-35 degrees with a constant 30mph wind. We later joked that we had traveled thousands of miles only to end up in Cleveland like weather in Hawaii! At the summit it was a little hard to breath too. There isn't a lot of oxygen at close to 14000 feet. After watching the sun set, we traveled down to about the 9000 foot mark, where we set up a telescope and checked out some stars and the guide pointed out several of the constellations. I really enjoyed the trip, although I could have done without the cold that quickly developed after that!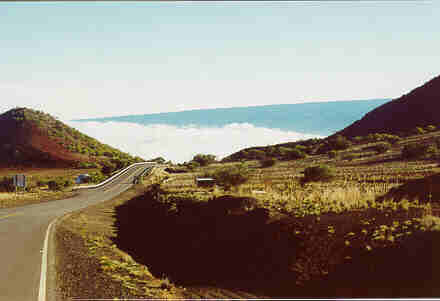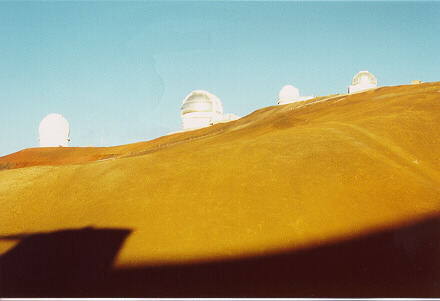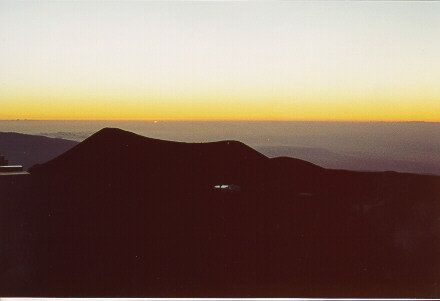 Wednesday October 11, 2000
Our next day on Hawaii we traveled down the west coast to Kona. We had planned on seeing the lady that I buy my green coffee from, Cea Smith, but didn't have any luck in finding her. Unfortunately, I forgot to email her before we left to get her exact address, so we had little to go on besides the name of the farm, Smith Farms. After looking around for a while, we thought that it probably wouldn't happen and decided to tour a little coffee farm that we had passed, "UCC Hawaii Coffee Factory". It turns out that the inviting little shop was owned by the Ueshima Coffee Company, a Japanese corporation. We went to that coffee shop, sampled the coffee and bought some. While we were in the Kona area, we stopped at several shops. We also came upon a little coffee shop called "Bad Ass Coffee". Of coarse we had to stop there and get some coffee and have our pictures taken!! Too cool to pass up those photo ops....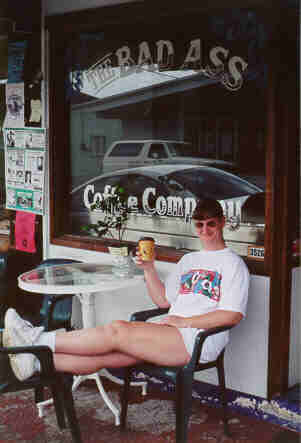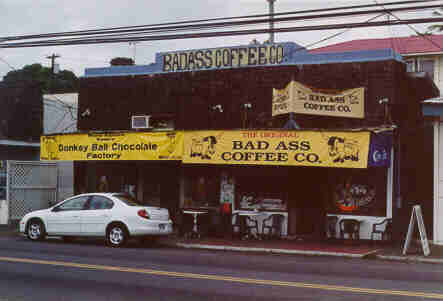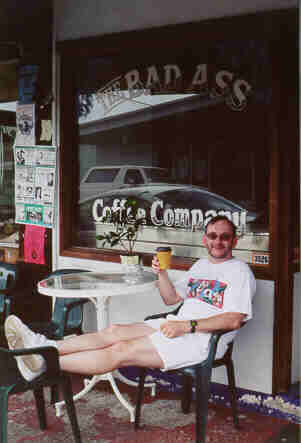 Kona didn't seem like much of a tourist area, so we got to see how the native people lived. We both got a kick out of seeing that sort of thing. It was like a different world where time meant nothing. You couldn't help but relax when everyone around you was in low gear! I was amazed a couple of times when we wanted to cross the fairly busy road and cars would stop to let us cross. We were out and about for most of the day. One thing that we noticed all along was the number of cyclists along the highway. It wasn't until later that we found out that the Ironman Triathlon was that Saturday, so everyone was getting set for that. That night we had dinner at an exclusive restaurant called Roy's. It was about a 10 minute walk from our hotel, and the food was wonderful. We both loved our meals, but can't remember exactly what we ate. Heather vaguely remembers a caesar salad, lobster tail and a great German white wine, a riesling. Also, not to be missed was the heartbreakingly beautiful sunset from our honeymoon suite.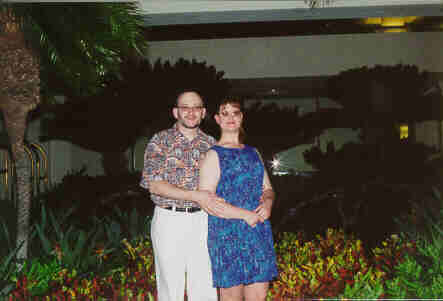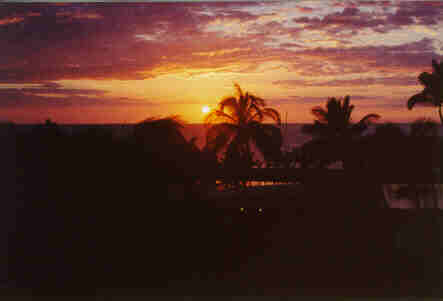 Thursday October 12, 2000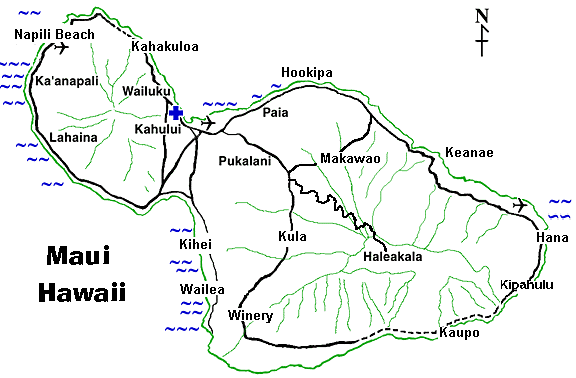 After our stay in Hawaii, we hopped on a plane to Maui. Our flight left at 10:15 am and arrived in Kahului, Maui at 10:42am. One thing that was a little odd about the interisland flights was that there were no seating assignments. It was more like a bus ride than a plane flight! After landing and getting our rental car (a silver Neon), we were off to our hotel on the west coast of Maui, a place called Outrigger Napili Beach.

There were only 2 routes to get there, a north route and a south route. The north route was noticeably shorter, so we headed off that direction. It didn't take long for us to discover that maybe it wasn't the route to take!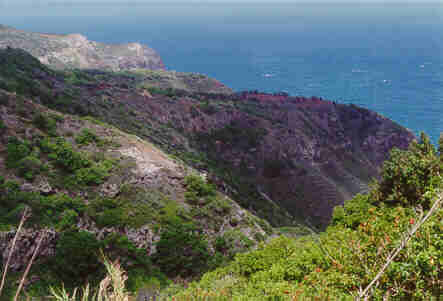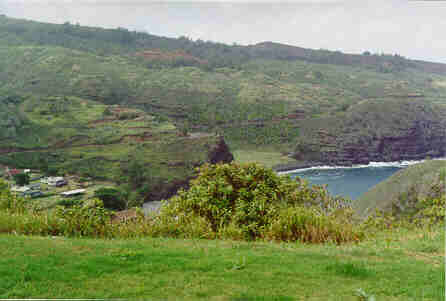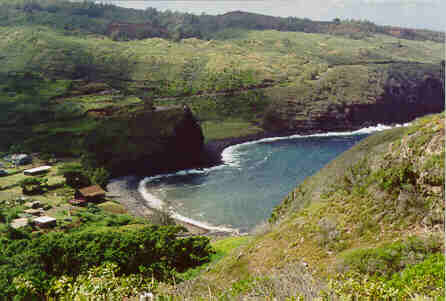 The road started out ok, but then started to wind around the mountains and got to a point where it had narrowed down to about the width of a car. We had to plan where we were gonna let other cars pass, because the road was just wide enough for a car, with the mountain on one side and a drop of several hundred feet to the other side, and there weren't any guard rails!! When we saw a car coming, we'd scope out a spot in the road that was a bit wider (there were occasional spots like that for the purpose of passing) and stop there until the other car went by. Some of the spots were -just- wide enough for this purpose. There were times where I thought we'd hit mirrors with the other car, but we never did. Heather did a -great- job at maneuvering around the corners. Too bad her navigator fell asleep on the job!! (He now knows to take the southern route if we ever make it there again!)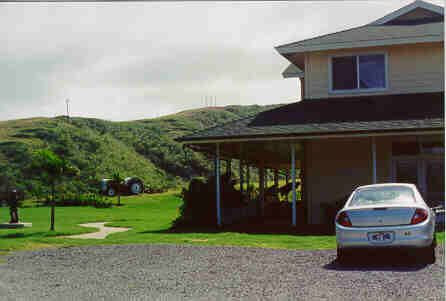 At one point about halfway to civilization, we saw a little gift shop (see pic) and decided to stop for a little break. At the Kaukini Gallery shop they had an "I survived the drive to Kahakuloa" t-shirt, so we both decided that we'd earned the shirts so we bought them and had a little snack and were back on the road. If you should ever desire to give a loved one a real Hawaiian gift the Kaukini Gallery was a great place to look. Their e-mail is kaukini@maui.net. We finally got to the hotel about 3 hours after we landed. We went to our room and were -very- disappointed. The room had no air conditioning, a bed on wheels and a meager stand-up only shower stall. Heather likes to take bubble baths and was unhappy with that situation. I wasn't happy and I could tell that Heather was equally as disappointed, so I called up the front desk to see if they had any rooms with AC and a regular bathtub and they didn't. We decided to see if there were any Outrigger properties down the beach a ways that we liked better. There was one Outrigger property that had 3 bedroom rentals, which we didn't want, so we gave up and headed back to the Napili Shores Outrigger. (We just wanted to mention a hotel employee at the Embassy said the meals at the Outrigger Napili Shores were tremendous and most Maui buildings don't have air due to the great amount of cross wind ventilation. We weren't happy with the hotel, but others would be very happy there. We just wanted more luxury for this, our honeymoon, trip.) Heather suggested that we look in the yellow pages to see if we could find a phone number for AAA, which had booked the entire trip. Fortunately, they had a local phone number, so I called. After an anxious moment, the lady at AAA put me in touch with a lady from Pleasant Hawaiian Vacations by the name of Debbie. I explained to her the situation and that we weren't happy there and she said that if we didn't like it she'd get us out of there. She said that she'd call around and see what she could do. About 30 minutes later she called and told us that we could get a room at the "Embassy Suites" or at their top of the line hotel, Ka'anapali Ali'i (Ali'i is Hawaiian for king). They were both more expensive, but the Ali'i was a -lot- more expensive! We decided on the Embassy, so we drove there to check it out. The guy at the desk told us that he had an ocean view room with a limited ocean view, or a corner room with a -great- view for slightly more money. We settled on the corner room and when we got there, the view was awesome!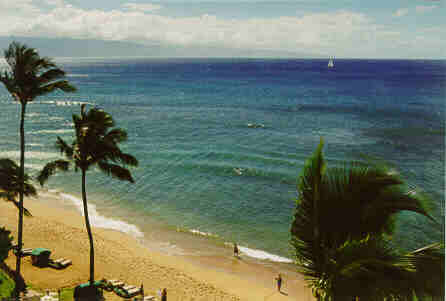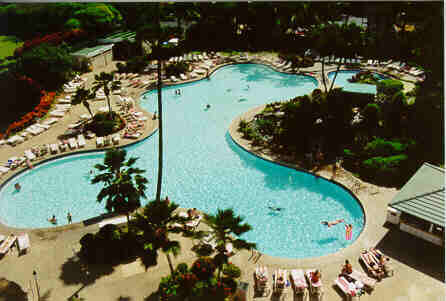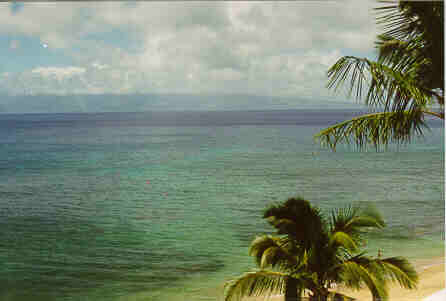 The ocean was right outside of our living room window and from the bedroom we could see the ocean out one window and the hotel's pool, waterfalls, and palm trees out the other window. It was truly a great view no matter where you looked! The left-most picture shows a distant view of the island of Lanai' while the right-most picture shows a view of the island of Molokai'. Heather was very pleased that I decided to call up the AAA and have the room changed. There's no doubt that our honeymoon would have been wrecked had we stayed at the Outrigger Napili Shores. We spent the rest of the evening there just admiring the amazing view of the ocean and enjoying our new room (complete with his and her vanities).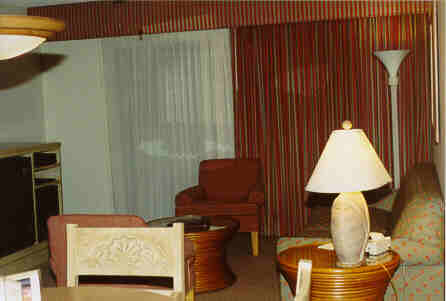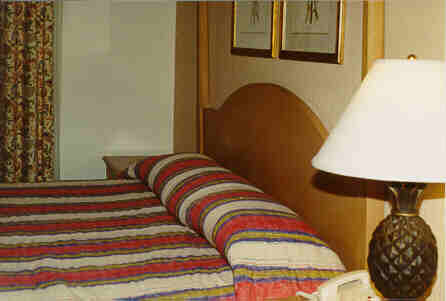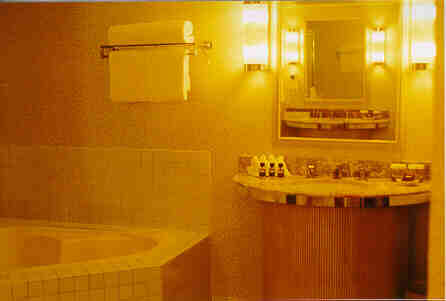 That night we had dinner at the hotel restaurant, the North Beach Grille. Heather tried a nearly uncooked highly prized fish called Ahi. It was seared on the outside and fixed sashimi style on the inside. Surprised, she actually enjoyed raw fish very much. It was a nice ending to our most trying day.
Friday October 13, 2000
Our second day there we were invited to a breakfast orientation. We went to that and listened to a guy describe to us places to go and things to see. We heard about Ulalena, a Maui Myth and Magic Theatre Production, which fascinated us, but we decided not to go see it. There was a Ulalena cast member named Anthony Natividad at our orientation who played the flute with his nose. Hawaiian legend has it that people could lie if they played music with their mouths, but a person couldn't lie through his nose, so the nose flute became popular. What a difference this culture is compared to those on the mainland! We also were told about a great magic show called WARREN and ANNABELLES MAGIC. The hotel had someone from that show do some magic with a few kids in the audience. Then it was time to decide what we really wanted to do since we only had seven days on Maui.

After the talk, we got together with a person who helped schedule different activities for the hotel guests and decided what sort of stuff we'd like to do. We signed up for several things and the lady took it from there. She took care of all the reservations, and made up a schedule for us including the time we'd have to leave the hotel each day, what to wear, what to bring along and that sort of thing. She truly did a great job and all of her departure times were right on the money. The first thing that we decided to do was go to the Hyatt Luau that night (4:45pm). We had a great time enjoying the food and watching the dancers. I even tried the poi (the purple putty looking stuff on the plate!), which the breakfast orientation guy described as tasting like drywall compound ... he gave it too much credit! I've never tasted anything so nasty! (We were later to discover-through our Maui tour guide-, Enselm, that poi is cooked very differently in Hawaiian homes than at luaus. Most Hawaiians make patties out of the ground up taro plant and add spices that make the meal delicious.) The rest of the food, though, was pretty awesome. During the start of the Luau, we were all encouraged to introduce ourselves to the people setting next to us. We found that no less than 3 other couples at our table were on their honeymoon's and had been married the same day we were.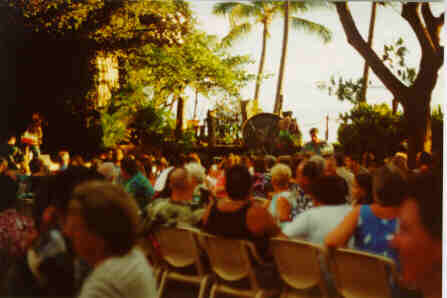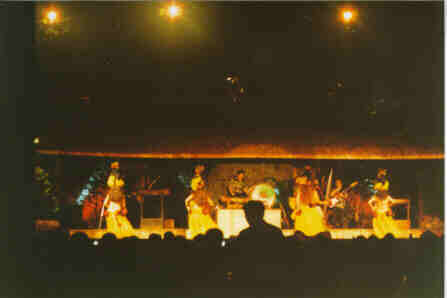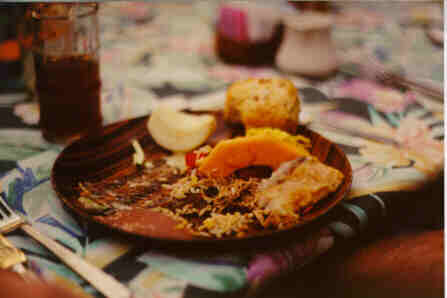 Saturday October 14, 2000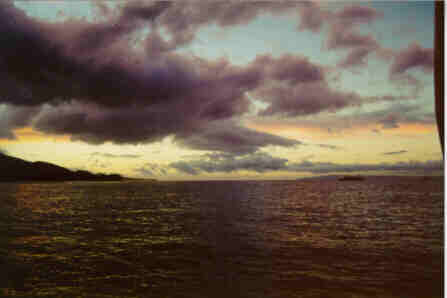 The next day (6:00am) we took a boat, Maui Princess, to the island of Molokai and then a van took us around the island. Molokai was northwest of our hotel ... as a matter of fact, you could see the island from our hotel window. It was an overcast day, but a very pleasant day for a boat ride. The wind, as usual, was pretty strong, so the boat ride was a little rough, but nothing that we couldn't handle. When we finally made it to the dock, the tour van was waiting on us, so we jumped in and away we went. The island was mostly natives with very few tourists. If you ever wanted to see what the natives lived like, this is definitely the place to go. We pretty much toured the whole island and had lunch at the little restaurant in the middle of town. We also had the opportunity to spend about an hour walking around the town (that was more than enough time!) and check out all the little shops.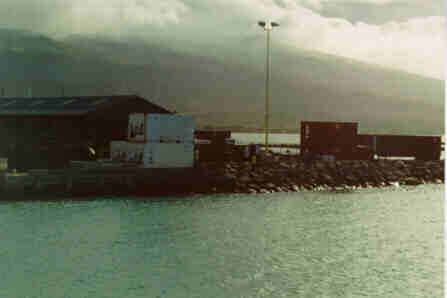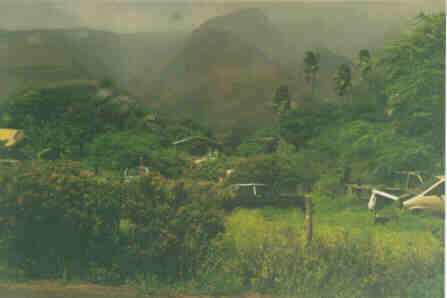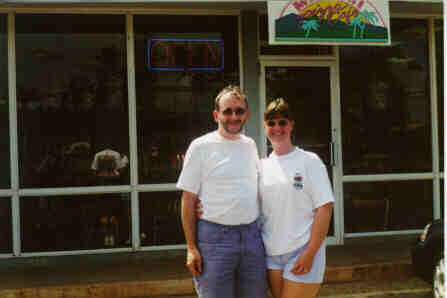 While there, we also stopped at one of the local macadamia nut farms. It had rained just before we got there, so it was too muddy to walk around the farm but Kathy, our tour guide, talked the farmer into coming out with samples of newly roasted macadamia nuts, and fresh coconut. We enjoyed the treats for about a half hour and then some of us bought the farmer's products. (One interesting note is that Kathy, the lady to the right of the frame in front of the van, has a son who plays football for the Pittsburgh Steelers.)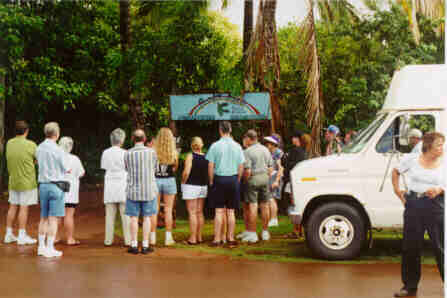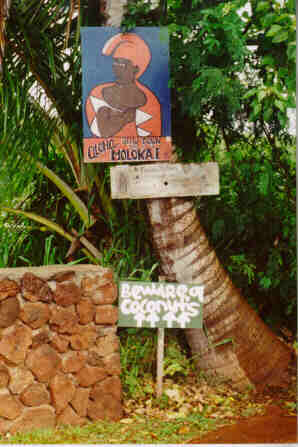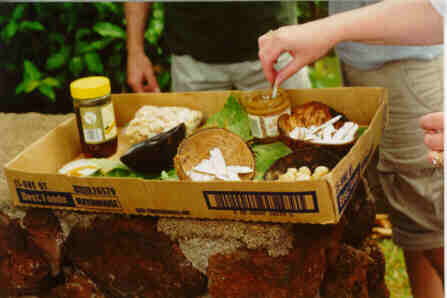 After the tour, the van took us back to the dock where we got on the boat back to Maui. We got back to the car at about 3:30pm. Once we got back to the hotel, we were able to go to the happy hour that they had every day from 4 to 6pm. I had their draft beer and Heather got a Mai Tai.

Sunday October 15, 2000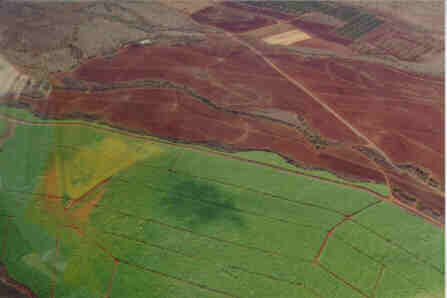 We took a Blue Hawaiian Helicopter/ Temptation Van tour of eastern Maui. We drove to the Kahului airport in Central Maui to get on the helicopter. The helicopter took off at 11:15am and flew over Haleakala, the volcano on Maui. We had to climb at about 1500 feet per minute to keep up with the rising ground. The base of the volcano was pretty close to the airport, so it was a pretty hefty climb from there to the top at 10,000 feet. On the way up, we passed over Central Maui which is where sugarcane is grown. The fields looked like puzzles. Our pilot, Rich, said that the fields had the maze of roads through them so that when it was time to harvest, the fields could be burned one section at a time. I didn't realize it, but when sugarcane is harvested, the field is set on fire to burn off the leafy part of the plant leaving only the stock.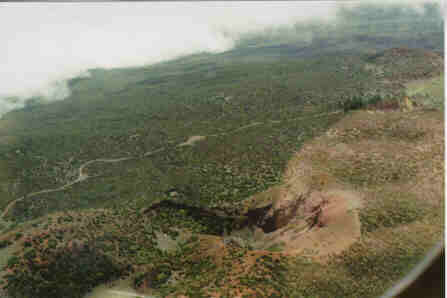 On the way to the top we also got a good look at the Haleakala Highway. That's the road that you'd have to take if you wanted to get to the top of the volcano by car. There's also a bike tour that travels down the Haleakala Highway from the top. If you decide to go that route, you can ride the bike for over 20 miles without pedaling! We were happy that we decided to take the 10 minute helicopter ride to the top as opposed to the 2 hour drive by car! We had had enough of driving treacherous roads and the helicopter flight, Heather's first, was wonderful.
At the top of the volcano we circled a few times to take some breathtaking pictures and then it was a dive back to sea level to land at the Hana airport on the other side of the mountain. Incidently, you can see deposits of vibrant yellow and red earth while at the top of Haleakala. The yellow areas are densely composed of sulphur and the red areas are composed of iron.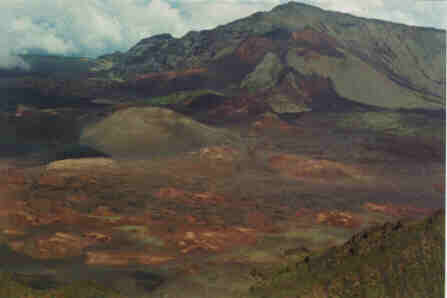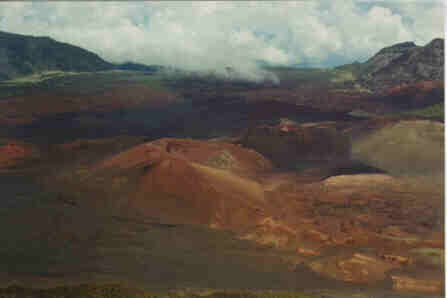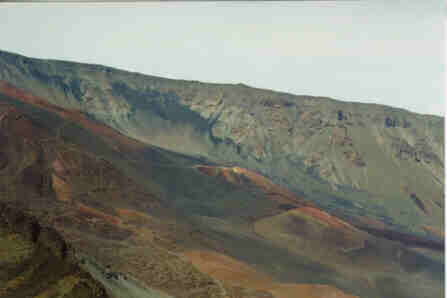 On the way down, we stopped at several waterfalls on the rainforest side of the mountain to snap some pictures. The rainforest is so dense that Rich said that the only way to see some of the waterfalls is by air. (If these pictures look at all like something out of the movie, "Jurassic Park" then you are right on the money. Our helicopter tour company, "Blue Hawaiian" was the one that helped Steven Spielberg produce that movie.)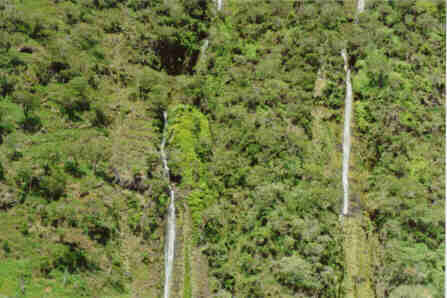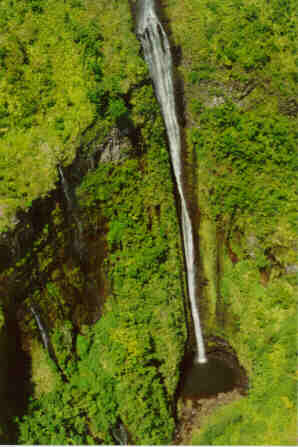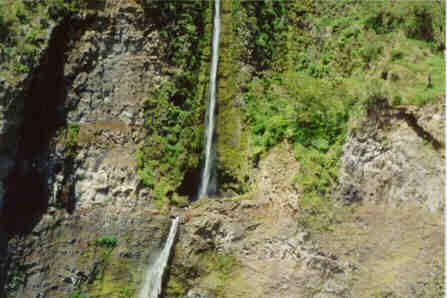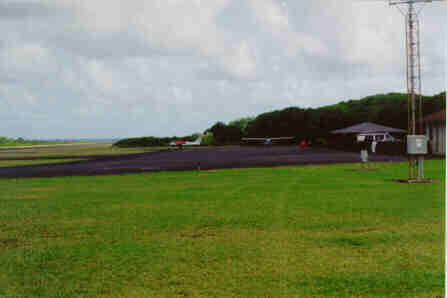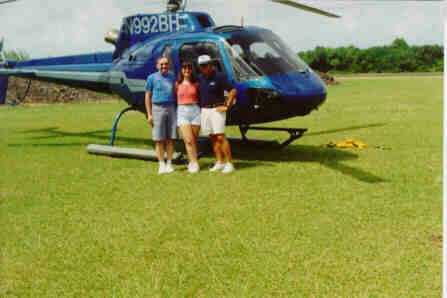 After a pretty quick decent, we landed at the Hana airport. It was a cute little airport, with almost no activity. Kinda reminded me of a small Salem Airport on a slow day! After landing and getting our picture taken with the pilot and helicopter, we loaded into a van. (We were treated like royalty or starlets during this tour. The helicopter and van were luxurious and very comfortable. We felt like we belonged at this little Hana Airport where people like George Harrison and Jim Neighbors land and take-off.)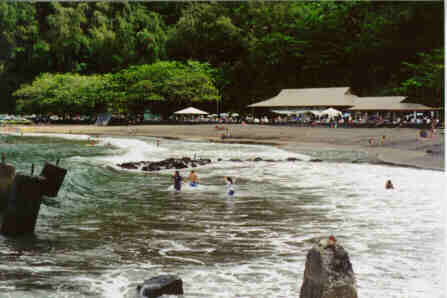 The van was very nice inside ... leather seats, plenty of room, big windows, etc. Once we got in the van, we drove to the small town of Hana. The town was -very- small ... New Waterford was a big city in comparison! It had a general store, a hotel, a gas station, and a bank. The bank was open from 3pm to 4:30pm M-F and the gas station didn't list the prices. At that point, you're a couple hours drive from the closest gas station, so if you need gas, you have to buy it there! This was another place where there weren't a lot of tourists. My guess is because of the long, hazardous drive. The tour guide, Enselm, said that a stay at the Hana Hotel was very expensive. He did say, however, that the price included all meals since there wasn't anyplace else to eat in town! After looking around town a bit, we headed to one of the black beaches. We stopped there to have a picnic lunch and headed back toward the big Maui airport to our car.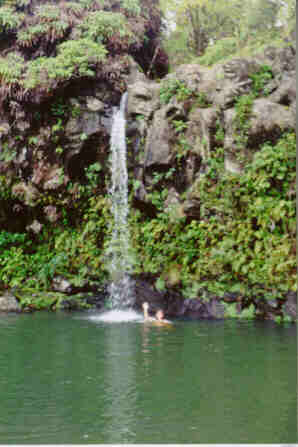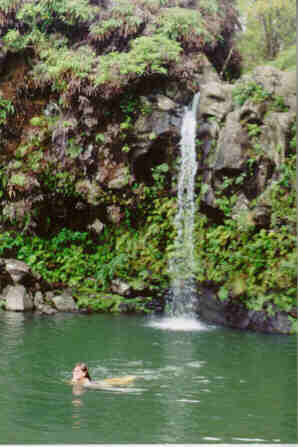 After driving a bit, Enselm stopped at a little picnic area that had a small pond that you could swim in. Heather decided that she wanted to go try it out, so we headed to the pond. We made it to the pond after going across a small stream by stepping on rocks. Fortunately we both had sure footing and didn't fall off any of the rocks! Once we got to the pond, we both sampled the temperature and found it to be freezing! I'm not sure how she managed it, but Heather somehow jumped in and spent a few minutes in the freezing water.

We took the northern road back to civilization. It was very similar to the road that Heather and I took to the hotel, but this road was at least newly paved the whole way and had guardrails. On the way back, Enselm showed us where Jim Neighbors had a mansion complete with a commercial macadamia nut farm. He also pointed out a bunch of stuff about the plants and that sort of thing. One thing that I found very interesting was that every now and then you'd see one of the streams blocked off and the water diverted into a cement channel. Our guide explained that Central Maui was very flat and was a perfect spot to grow sugarcane with the exception that it was too dry. East Maui had plenty of rain (about 400 inches a year), but the mountainous rainforest area would be impossible to plant and harvest. The solution was to build an aqueduct system to channel the fresh water from the rainforest area over to Central Maui and use it for irrigation. He explained that it took about a ton of fresh water to produce 1 pound of sugar, and the rainforest had that kind of capacity. Pretty interesting stuff. On the way back, we also stopped in a little town called Paia. It was a neat little town about the size of Columbiana. The guide had to return stuff from our catered lunch at one of the stores there. After that brief stop, we were on our way back to the airport where we hopped in the car and headed for home ... the Embassy at Ka'anapali.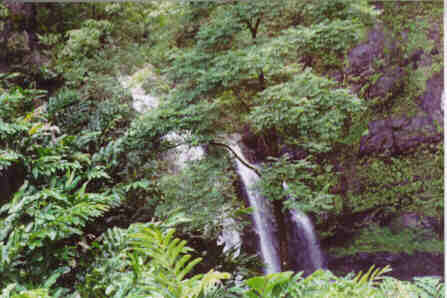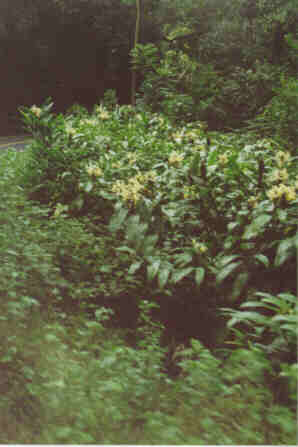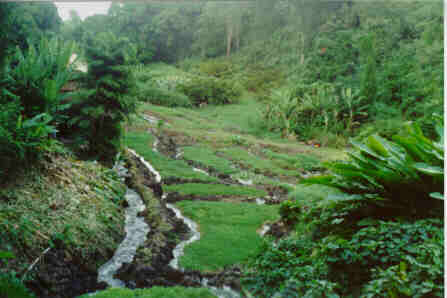 Monday October 16, 2000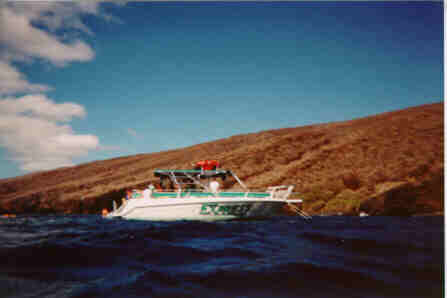 The following day (8:15am) was another boat ride. This trip was on a small power boat called the Lanai Express for a snorkeling trip. We drove south to the dock at Mala Wharf and were fitted with fins and snorkel gear. After we got our stuff, we loaded onto the boat and headed out. The sea was pretty calm at that point, so the ride wasn't too rough. We headed to an island called Lanai which was just south of the island of Molokai that we had toured earlier. We never set foot on the island, but stopped at 2 places along the coast for people to snorkel. I don't swim, so I stayed on the boat while Heather went out. She did a great job of snorkeling and even dove under the water several times with a disposable waterproof camera to get some pictures. We spent about 30 minutes at the first location where we saw dolphins and all sorts of stuff. After that it was on to the second location. En route, we came upon a school of dolphins so the guy stopped the boat and just floated. They were everywhere! They were called spinner dolphins, and as they popped from the water, you could tell why. Instead of just leaping from the water and diving back in, they were spinning (on their roll axis) as they came out. It looked like they were having a blast! We spent several minutes there and then moved on to our second point. When we got there, everyone got off the boat except me and the boat crew (2 guys). After a couple minutes, I asked one of the guys if there was anything that a nonswimmer could do. He said that they could get me in the water if I wanted to try it. The one guy told me that I had nothing to lose, except for maybe my life. I thanked him for that image and put on my fins. He gave me a little board called a boogy board that looked like a mini surfboard. I held onto the board and plopped into the water. The guy stayed with me for a while. At that point, Heather saw me in the water so she came over and kissed me and told me that she never thought I'd get in the water. From then on, she was my lifeguard. The guy told me that I was in good hands and that if I needed mouth to mouth, she'd probably be willing to give it to me. He said that she might even give me mouth to mouth even if I didn't need it! I felt pretty safe having her as my lifeguard, because she is a great swimmer. We spent quite a while in the water and after I figured out how to steer myself and that sort of thing, we all got out and back into the boat. The trip back home was pretty rough. I'm not used to small boats, so I was concerned that I might get sick, but I was fine the whole way. There were a couple people who got kinda green, but nobody tossed lunch or anything like that. After docking the boat, it was back to the hotel.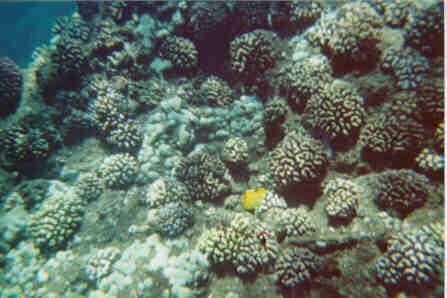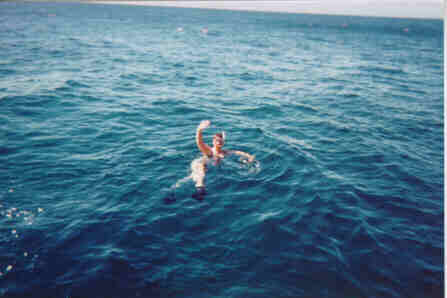 Tuesday October 17, 2000
The following day was our last full day in Hawaii. In the morning we listened to a timeshare presentation (10:45am) to get 10% off all our activities. It's not something that we really wanted to do, but since we'd save quite a bit of money, Heather decided that she'd like to go, and I agreed. After the presentation, we spent some time in our room and got ready for our sunset sail. We drove down to the boat dock (3:45pm) at Whaler's Village where we got on a 53 foot sailboat called Kapalua Kai. The boat went up and down the coast for a couple hours and we got back just as the sun was setting. The price included some snacks and an open bar, so we each had a couple drinks while enjoying the view. It was a very nice trip. After leaving the boat, we went to a pretty fancy restaurant called Hula Grill where we had made reservations for 6:30. It was a very nice last day of our honeymoon.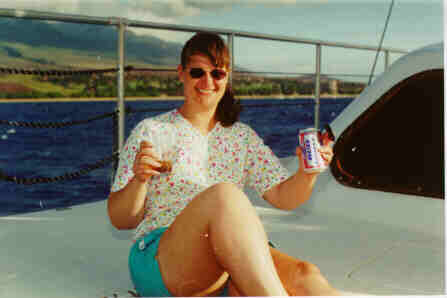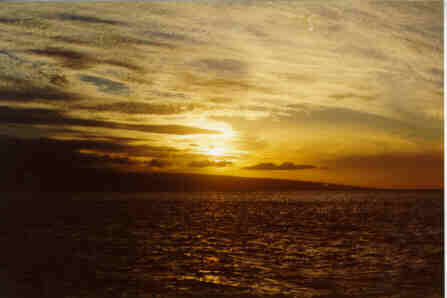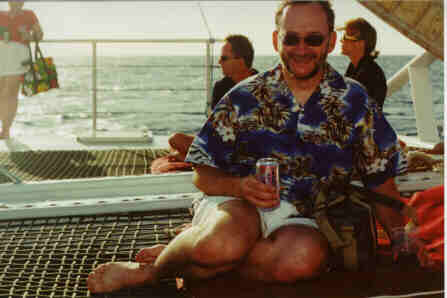 Wednesday October 18, 2000
On Wednesday we had to check out of our hotel at 11am and our flight wasn't until 9pm, so we had about 8 hours to kill. We decided to drive up Haleakala a ways and turn around before the road got too twisty. We drove for about 30 minutes to a small town called Kula and discovered cactus EVERYWHERE! It was such an odd thing. There were cactus plants by the thousands. They seemed to only occur right at that particular altitude. Heather decided to stop and snap some pictures in a few different places.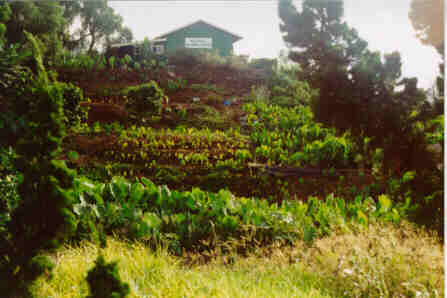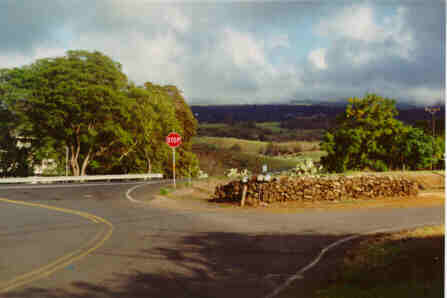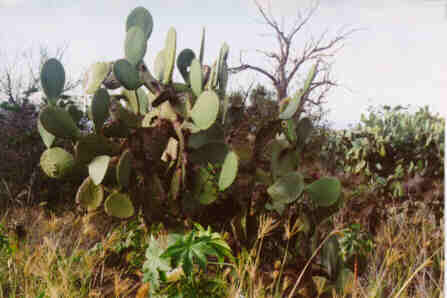 On our trek up the volcano, we also found a greenhouse that grew orchids. Since Heather's Grandma grows orchids, she wanted to stop and check them out, so we did. We went into the greenhouse, but didn't find anyone there. We looked around at all the plants for several minutes and headed out. Across the street was a McDonalds. We were both a little hungry at that point, so we stopped and had a bite to eat. We left there and decided to head back to lower ground. We were close to the little town of Paia that we had gone through on our way back from Hana, so we decided to drive there and check things out a little more. We got there, parked the car, and walked through the town stopping in all the little shops. In the one shop we found a lady, Terrissa, who was originally from Springfield, Ohio. She immediately took a liking to us, so we spent quite a bit of time talking to her. Her shop, Old Plantation Store, had some of the most interesting wind chimes that I've ever heard. They were made of bamboo and koa wood (nearly extinct) and had a nice Hawaiian-like relaxing sound. I told her that I'd like to get a set and asked her if she could ship them. She said that they could easily do that since the post office was right down the street, so I got her email address and info on how to order the chimes. While there, we both talked about how we enjoyed some of the local Kona coffee, and she pointed us to a little coffee shop, Anthony's Coffee Company, a block away that had a roaster right there. She said that they roasted their coffee every day, so you couldn't get it much fresher than that. We thanked her and headed to the coffee shop.

We both got our favorite coffee and sat there in the little shop and enjoyed drinking it while checking out the place. After spending some time there, we decided that it was time to head back. So we went back toward the airport, gassed up the rental car and stopped at a K-mart next door. Heather had a pretty nasty sunburn on her back that she got while snorkeling so she wanted to stop to find something to sooth the pain a bit. After some searching, we found some stuff that claimed to help sunburn pain, so we bought that along with a couple other small things and headed to the car. Heather dropped me off at the terminal area with all the luggage and returned the rental car. I waited where she dropped me off until she had returned the car and gotten a ride back to the terminal on their shuttle.

We then went to one of the agricultural inspection stations and had our luggage all checked. When flying back to the main land, you have to have your bags checked to make sure that you aren't carrying something that could have some sort of bad insect in it or something like that. I expected this to be a long process, but it was pretty quick ... they just ran all the luggage though an x-ray machine. They asked us if we had any sugarcane and when we told them we didn't, we were cleared to go. Once that was done, we had to check our bags and the normal airport stuff and then it was off to the gate for a 2 hour wait! When it finally came time to board the plane (another L1011), we got to our seats and headed for our first stop .. LAX. We took off on time at 9:10pm. During the flight both Heather and I managed to get a little bit of sleep, but not much. After a long flight over the ocean, we got to Los Angeles at 5am (LA time). Our next flight was scheduled to depart for Cincinnati at 6:25am, so that gave us just enough time to get to the correct gate ... LAX is a -big- airport! We got on a Boeing 757 and were on our way to Cincy. After another long flight, we got to Cincinnati at 1:35pm and had to wait for our final flight to Cleveland at 3pm. That flight was on another MD80. We finally got to Hopkins at about 4:10pm, collected our luggage, got a cab, and made it home at about 4:30. Upon our arrival, we were amazed to see the house all decorated for our return. You can't imagine how that brightened our day after spending so many hours on airplanes and at airports!! Thank you very much Ma, Pa and Carla!!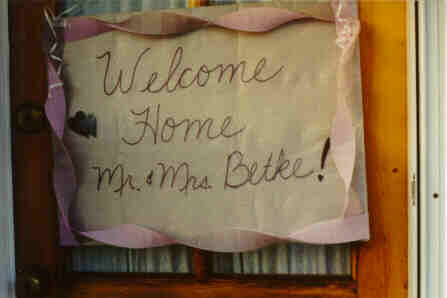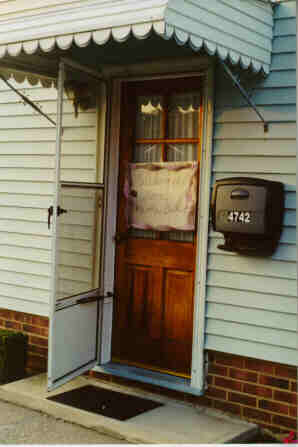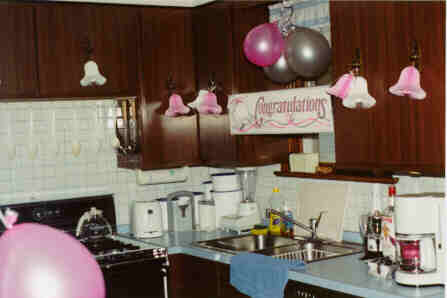 Home